Help make Pesach for 350 Russian families of avrechim in Israel!
Help make  Pesach for 350 Russian families of avrechim in Israel.
Here are several compelling reasons why your "Kimcha d'Pischa" donation to Toldos Yeshurun is an especially well-placed tzedaka investment.
1: You will help sustain 350 families of Russian Avrechim in Israel who have abandoned all other pursuits and have dedicated their lives to both to Torah study, and to educating the thousands of Russian families in Eretz Yisroel who are embarking on their journeys towards Torah observance.
2: The N'shei Chayil in these growing families are often at a disadvantage in a competitive job market that favors native Hebrew (or English)speakers.                                          
3: These families are generally not familiar with the concept of approaching others for assistance.
4: These Avrechim and their families rarely receive support from their extended families.
WE ARE THEIR FAMILY  !
Tax deductible contributions payable to "Toldos Yeshurun" (Tax ID 113616095) may be sent to the following Rabonim:
WEB             Donate online                                      https://ssl.vds2000.com/ssl.toldot.ru/eng_donation_form.php
NY                 HaRav Aharon Moshe Schechter       1141 E 17th st Brooklyn NY 11223
Baltimore     HaRav Aharon Feldman                     409 Yeshiva Ln, Apt 3D Pikesville, MD21208
Chicago        HaRav Zev Cohen                                 2949 W. Coyle Chicago, IL 60645
Lakewood    HaRav Moshe Rabinowitz                 10   5th st  Lakewood N.J. 08701
Lakewood    HaRav Avrohom Miller                                 26   Engleberg Ter. Lakewood N.J. 08701
Passaic         HaRav Schachne Weinberger            360 Dwasline Road Clifton NJ 07012
Los Angeles HaRav  Boruch Gradon                                312 N Detroit st Los Angeles, CA 90036
Toronto (TAX C.K. Fund) HaRav Aharon Miller 90 Dell Park Toronto ONT M6B2T8
כל התרומות על דעת הרבנים שליט"א
Toldos Yeshurun is a Community and Educational Network for Russian Jewry in Israel which was Founded by the famous Gaon and Tzaddik Rabbi Yitchok Zilber, zt"l and is now led by his son Rabbi Ben-Tzion Zilber Shlit"a. The majority of the Russian Avrechim in Eretz Yisroel that are involved in educating Russian Olim, are through this organization.
The Organization is Endorsed and Guided by Gedolei Yisroel in Eretz Yisroel and in the U.S.
HaRav Yosef Shalom Eliashiv
HaRav Aharon Leib Shteinman 
HaRav Chaim Kanievsky 
HaRav Pinchas Scheinberg 
HaRav Aharon Moshe Schechter
HaRav Shmuel Kamentsky
HaRav Malkiel Kotler 
HaRav Yisroel Neuman
HaRav Yeruchem Olshin
HaRav Yakov Perlow
HaRav Dovid Schustal
HaRav Mattisyahu Solomon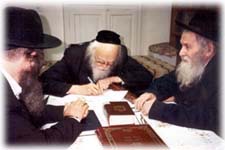 Whoever assists them in their spreading the light of holiness will see blessing from his labors
Yosef Shalom Eliashiv
Send report